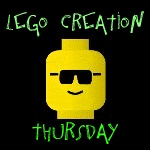 Welcome to the final March edition of Lego Creation Thursday! Can you believe tomorrow is April first? I need to think of an April fool's Day prank to play on my family!
This weeks Lego question of the week is:
Do your kids love the Lego mini figures?
My boys love them! Especially Justin. He has quite a collection. One of these Thursdays maybe we will do a post on those? Myself I think the Lego figures are very cool!  I was excited to find the mini figure key rings so cheap and we were able to remove the key ring and use them as regular mini figures.
Onto the creations!
This week Justin is up first with yet another architecture series. This week he is sharing the Willis Tower.  It was built in 1974 and it is the  currently the tallest building in the US. Most of us know it as the Sears Tower. It had a name change a few years ago.  Oh and I learned something else from Justin. Aerial's do not count when measuring the height of a building! I had no idea! Justin is just a wealth of information. I tell you the boy is a sponge!
Kaden's creations this week are more of the birthday gifts that he received last week. A police truck and a police helicopter.  Again, Justin gave him a hand with these creations.
I feel much safer knowing the police are here and patrolling the area!
Even if they are miniature police!
What Lego creations have your kid's come up with this week? Please join us! We would love to see their creations! You can link up below using Mr. Linky! I would appreciate it if you would link this post in your post or share our Lego Creation Thursday button in your post. Be sure to join us each week!