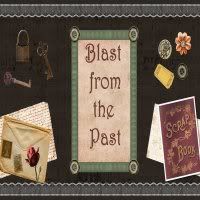 I am loving doing Blast from the Past! It is so fun to go back and look at pictures of the kids and see how much they have grown and changed!
This week I want to share some pictures of Kaden! These are all of his first year! Such wonderful memories! I cannot believe he is almost 6!
Daddy and Kaden the week he came home in August 2005.  I love this picture.
In our motel room in Wildwood NJ while visiting the Jersey shore! Such a happy boy!
A tradition we have always done with the boys is to write their names in the sand and take a picture with them and their name. We also put the year but I don't see it here. Kaden is wondering what in the world he is sitting in! I love that he is holding both of his feet!
Thanksgiving 2005. At Aunt Donni and Uncle Mike's house. He is such a happy boy. You would never know he was sick that day. What a happy face!
I laugh every time I see this one! I made a tiny snowman for Kaden. When I set him next to it he kept looking at it and it looked like they were having a conversation.  I could not resist putting that caption on there. I think they make great friends!
To join in Blast from the Past click the button at the top of the page!